Cedar City buck deer investigation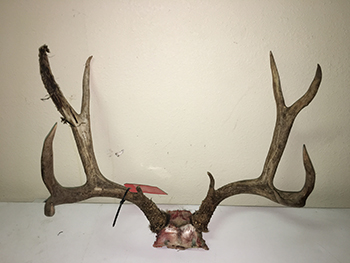 CEDAR CITY — On October 29, 2018, Utah Division of Wildlife Resources (DWR) Conservation Officer Kody Jones received information regarding a poached 26-inch 4x4 buck mule deer in a field, west of Cedar City, Utah. The deer had been shot and left to waste.
Officer Jones responded to the scene and located the buck near 2400 North and 400 West in Cedar City. It was determined that the animal had been shot with a rifle, approximately one month prior to the report.
Several individuals reported that they had seen the animal in the area, but not in the past month.
There are no suspects at this time.
Anyone with information about the illegal killing of this buck, or any other animal, is encouraged to call the Utah Turn-in-a-Poacher (UTiP) Hotline at 800-662-3337. Rewards are available, and requests for confidentiality are respected.
Officer Kody Jones


This email address is being protected from spambots. You need JavaScript enabled to view it.


435-691-3232
Sergeant Mark Ekins


This email address is being protected from spambots. You need JavaScript enabled to view it.


435-619-2400