Headless buck deer left near western shoreline of Utah Lake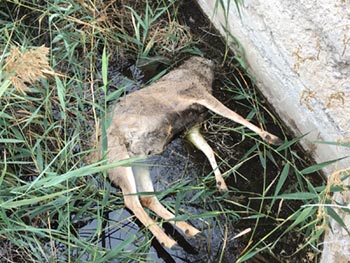 UTAH COUNTY — On Nov. 1, 2018, a headless buck deer was discovered in an irrigation station by the western shoreline of Utah Lake, near Mosida Farms.
DWR conservation officers investigated the scene and determined the buck had been shot with a rifle, likely in the week before its discovery. The buck's head had been removed and its body was dumped at the irrigation station.
Anyone with information about the illegal killing of this buck, or any other animal, is encouraged to call the Utah Turn-in-a-Poacher (UTiP) Hotline at 800-662-3337. Rewards are available, and requests for confidentiality are respected.
Officer Sean Spencer


This email address is being protected from spambots. You need JavaScript enabled to view it.


801-618-8945
Sgt. Chad Bettridge


This email address is being protected from spambots. You need JavaScript enabled to view it.


801-319-2562