Wildlife officers seek assistance identifying elk poachers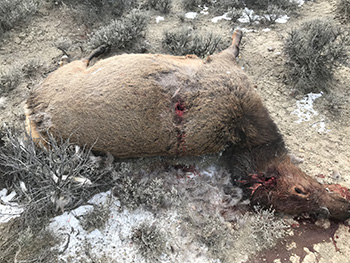 On December 1, 2018, Utah Division of Wildlife Resources conservation officers responded to a report of an elk that had been shot and abandoned within view of the Seep Ridge Road in the Book Cliffs, south of Vernal, Utah.
The investigation confirmed that two elk had been killed, and only one animal was removed from the kill site.
Investigators believe that these elk were killed between November 28 and November 30, 2018.
Division conservation officers are seeking the public's assistance identifying the person(s) responsible for this wildlife crime. If you have information about this, or any other wildlife violation, please contact the Utah Turn in a Poacher (UTiP) Hotline at 1-800-662-3337, or contact the officers directly at the numbers listed below.
A reward may be available to anyone who provides information leading to the successful prosecution of the person, or persons, responsible.
Officer Brandon White


This email address is being protected from spambots. You need JavaScript enabled to view it.


435-322-0671
Sgt. Bryan Clyde


This email address is being protected from spambots. You need JavaScript enabled to view it.


435-790-4630