More than 30 ducks and geese killed in Springville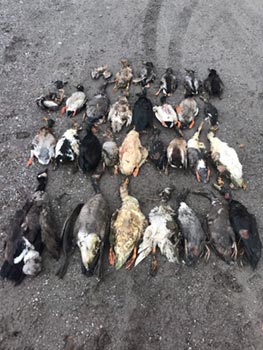 UTAH COUNTY — On Monday, January 14, 2019, a concerned citizen called local conservation officers to report multiple dead ducks along Spring Creek Place Road in Springville, Utah.
Conservation officers responded to the scene and located more than 30 ducks and geese along the waterway between Flow Serve and the Little Giant Ladder plant. Many of the ducks were domestic, but some were wild birds.
Officers found that several of the ducks had most likely been shot with a pellet gun. Officers were unable to determine the cause of death of all the birds located as they were in various stages of decay. It does indicate, however, that this may have been an ongoing occurrence.
If you have any information related to this illegal killing or information that might help investigating officers identify a suspect, please call the Utah Turn-in-a-Poacher hotline at 1-800-662-3337. Rewards are available and requests for confidentiality are honored.
Officer Sean Spencer


This email address is being protected from spambots. You need JavaScript enabled to view it.


801-618-8945
Lt. Matt Briggs


This email address is being protected from spambots. You need JavaScript enabled to view it.


435-340-0140