Residency fraud is a serious crime
With the big game hunt application period upon us, conservation officers with the Utah Division of Wildlife Resources (DWR) wish to issue a friendly reminder that residency fraud is a serious crime that steals opportunity from lawful applicants.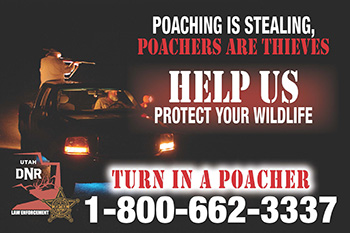 Licenses or permits obtained fraudulently or unlawfully are invalid and wildlife taken pursuant to an invalid license or permit are deemed to be unlawfully taken, or poached. An unfortunate, but not uncommon, example follows.
During the course of an unrelated investigation, conservation officers learned that a former Utah resident had unlawfully obtained resident licenses and permits in both Missouri and Utah between 2011 and 2016. Following an investigation, the subject faced a total of 23 wildlife-related charges in Utah's 6th District Court.
Upon a finding of guilt, he ultimately was ordered to pay fines and restitution for the licenses/permit fees he avoided while illegally applying for resident permits and for a buck deer taken pursuant to an unlawfully obtained permit. A DWR-initiated license suspension process resulted in the suspension of the subject's hunting and fishing privileges for five years. That suspension will be recognized by the 45 Interstate Wildlife Violator Compact member-states, including Missouri.
The intentional decision to mischaracterize one's residency status in order to increase the odds of drawing a permit impacts everyone in the applicant pool unfairly. DWR conservation officers take that seriously and prioritize those who choose to play the "residency game."
DWR conservation officers depend upon, and greatly appreciate, the assistance of the sporting public as we continue to help protect your wildlife. As always, if you are aware of a wildlife violation, please contact the UTiP Hotline at 800-662-3337. Rewards are available and requests for confidentiality are respected.
Sgt. Casey Mickelsen


This email address is being protected from spambots. You need JavaScript enabled to view it.


435-469-0438
Lt. Matthew Briggs


This email address is being protected from spambots. You need JavaScript enabled to view it.


435-340-0140