Hardware Ranch WMA
Take a winter sleigh ride through the elk feeding grounds.
Hardware Ranch Wildlife Management Area (WMA) — located at the top of Blacksmith Fork Canyon in northern Utah — provides habitat that supports a variety of wildlife species and public access for wildlife viewing, hunting, fishing and other outdoor recreation.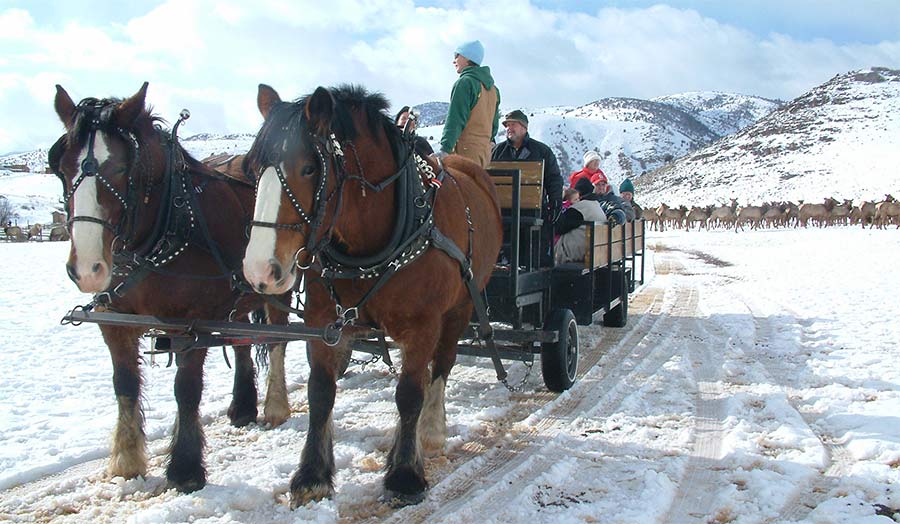 Public rides through the elk feeding grounds are popular during winter months.
During the winter months, the Utah Division of Wildlife Resources feeds between 500 and 600 Rocky Mountain Elk in the big meadow near the visitor center each day. The grass hay used to feed the elk — approximately 300 tons — is grown on the WMA throughout the summer.
An annual Elk Festival event celebrates the start of the winter elk-viewing season is a free, family friendly activity that typically includes crafts, mountain men demonstrations, elk calling classes and competitions. (Nominal fees to ride the wagon through the big meadow to view elk up close still apply. See the Events page for price information.)
Scenic, 180-degree views from the visitor center provide visitors with a bird's eye view of the big meadow and opportunities to learn about Rocky Mountain Elk, and other wildlife species, though an assortment of exhibits and interactive displays.
Licensed anglers can also catch several trout species in nearly 15 miles of streams and rivers on the Hardware Ranch WMA.