Utah Hunting and Fishing is the official mobile application of the Utah Division of Wildlife Resources. The free application was designed to be a powerful mobile resource for Utah's wildlife enthusiasts. With Utah Hunting and Fishing, you can: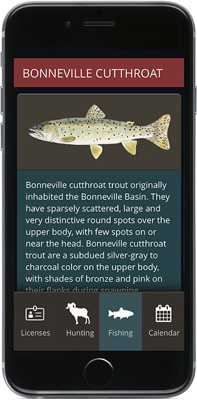 Download your license: Download and store your fishing, hunting or combination license on your mobile device. Quickly view information about your licenses or permits.
Download select permits: Download and store the season dates and other details about select big game, small game and other permits. Note: if your permit contains a tag to attach to an animal after harvest, you will need to carry the paper permit with you in the field and follow all tagging regulations.
Learn about upcoming events: Learn about upcoming wildlife viewing events, hunting season dates, drawing application dates and public meetings.
View a map of your hunting unit: After you download the details from your permit, you can see your hunt boundary maps and read the legal boundary descriptions.
Shooting hours: View the legal hunting hours for any date on the calendar.
Fish identification guide: See detailed illustrations and descriptions — including fishing records — about Utah's fish species.
Upland game and waterfowl identification guide: See detailed illustrations and descriptions about Utah's upland game and waterfowl species.
Also includes links to:

Buy a license
View your hunt drawing history and drawing results
Report a poacher
Find a Walk-In Access area
Download the app
The app is available as a free download for Android and Apple devices.
Questions about the app?