Buy hunting (small game) or combination license over the phone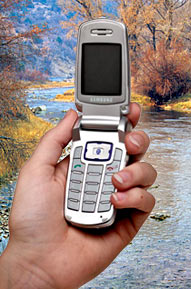 It's quick, easy and couldn't be more convenient.
1-800-221-0659
No matter where you are, if you have a phone and your credit card handy, you are within a few simple steps of owning a Utah fishing, hunting (small game) or combination license. Here's a quick list of all the items you can purchase over the phone:
Combination license (both hunting and fishing)
Hunting license (small game)
Fishing license
Various fishing-related permits (second-pole, setline, reciprocal Flaming Gorge and reciprocal Lake Powell)
Furbearer license
Pursuit permit (cougar or bear)
Three-day nonresident hunting permit
It's simple and convenient to buy these items over the telephone — anywhere, anytime. Just call 1-800-221-0659 and have your credit card ready. The phone line is staffed 24 hours per day, seven days per week. In addition to the fee for the license or permit, you will also be charged a $2 transaction fee for each item you buy.
You will receive an authorization number over the phone, which will allow you to use the license or permit immediately. Your printed license or permit will then be mailed out to you within the next 10 days.