| | |
| --- | --- |
| | |
Last modified: Thursday, August 3, 2011
Chronic wasting disease in Utah
Chronic Wasting Disease (CWD) is a relatively rare transmissible disease that affects the nervous systems of afflicted deer, elk and moose. Infected animals develop brain lesions, become emaciated, appear listless and have droopy ears, may salivate excessively and eventually die. There is no evidence that CWD naturally infects other big game species or domestic livestock.
Additional information
CWD test results
Notices
– Carcass regulations and importation
Maps
– Tested sample distribution
– CWD sampling units
Ebook
Important links
Where is it?
Chronic Wasting Disease has been found in three different geographic areas within Utah (see CWD positive map). The disease was first discovered in Utah in 2002 in a buck taken during the rifle hunt near Vernal. A second positive was discovered in Utah in early 2003, when a mule deer doe that died in an agricultural field near Moab, Utah, also tested positive. A third area of Utah was found with CWD in late 2003 when a mule deer doe taken in a depredation situation near Fountain Green tested positive. To date, 56 mule deer and one elk have tested positive for CWD in Utah. The highest prevalence rate (two percent in the buck population) in Utah is found on Wildlife Management Unit (WMU) 13, the La Sal Mountains, where 38 of the 56 cases have been found. Prevalence rates are less than one percent in the other two areas of Utah, near Vernal (WMU 9) and Fountain Green (WMU 16).
Surveys have also found CWD in free-ranging deer, elk or moose in parts of Colorado, Illinois, Kansas, Maryland, Minnesota, Missouri, Nebraska, New Mexico, New York, North Dakota, Pennsylvania, South Dakota, Texas, Virginia, West Virginia, Wisconsin and the Canadian provinces of Saskatchewan and Alberta, and most recently in Kansas and Illinois. It has also been found in captive deer and/or elk in 13 states and two Canadian provinces. In the endemic areas of Wyoming, Colorado, and Nebraska, it is found in less than one percent of wild elk and in one percent to 15 percent of wild deer populations. In 2005, Colorado confirmed that a bull moose tested positive for CWD, making it the first time CWD has been found in a wild moose. CWD has since been found in free-ranging moose in Wyoming and the Canadian province of Alberta.
There is considerable concern that CWD will spread into additional Utah deer, elk or moose populations. The Utah Division of Wildlife Resources is conducting random sampling of deer and elk to check for the disease.
What causes it?
Neither viruses nor bacteria cause CWD. Instead, infectious proteins called prions seem responsible. Prion-caused diseases are known as transmissible spongiform encephalopathies (TSE). Examples of these diseases are: Bovine Spongiform Encephalopathy (BSE) ("Mad Cow Disease"), Scrapie (in sheep and goats) and Creutzfeldt-Jakob Disease (CJD) (in humans). Prion-caused diseases and their methods of transmission are not well understood. Research indicates that it is unlikely that direct transmission of CWD from infected animals to humans occurs. In December of 1999, the World Health Organization stated, "There is currently no evidence that CWD in cervidae (deer and elk) is transmitted to humans." However, the similarities between CWD and Creutzfeldt-Jakob Disease are cause for concern, and appropriate precautions should be taken with harvested animals.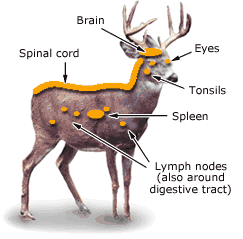 Avoid tissues where prions accumulate
Precautions
Hunters should not harvest animals that appear sick, nor should they eat meat from suspect animals. While there is little evidence that CWD affects humans, the DWR advises hunters to take these simple precautions when handling the carcass of any deer or elk:
Do not handle or consume wild game animals that appear sick. Instead, contact your local DWR office and notify them of the location of the sick animal.
Do not consume meat from animals known to be infected with CWD.
Wear rubber or latex gloves when field dressing big game.
Bone out the meat, or at least avoid consuming the brain, spinal cord, eyes, spleen and lymph nodes of harvested animals.
Minimize handling of soft tissues and fluids. Wash hands with soap and warm water after handling any parts of the carcass.
Knives, saws, and cutting table surfaces should be disinfected using a solution of 50 percent household bleach for at least an hour.
Please contact the Utah Division of Wildlife Resources for additional information or if you see a sick animal while hunting.
What is the DWR doing about CWD?
The Utah DWR first began looking for CWD in 1998 at a request from the Centers for Disease Control (CDC). The effort was initiated in response to a young resident of northern Utah whom had contracted Cruetzfeld-Jakob Disease (CJD). This person was a hunter and had harvested and consumed deer and elk from the state. WMU's where this individual hunted were the target for sample collection and nearly 700 samples were collected and tested over a two-year-period. CWD was not detected during these efforts and scaled back surveillance continued from 1999 to 2002. The majority of samples collected during this period were from symptomatic deer, elk, and moose, none of which were positive.
In early 2002, the Colorado Division of Wildlife (CDOW) announced the finding of a CWD positive mule deer in western Colorado. This caused concern for the Utah DWR given the proximity of the animal to the Utah border. Beginning that fall nearly 1,500 samples were collected from targeted WMU's around the state. It was during the testing of these samples that a mule deer buck harvested in WMU 9 near Vernal, Utah tested positive [see 2002 results — (PDF format)].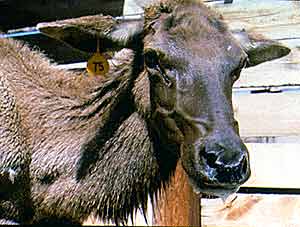 Elk afflicted with chronic wasting disease
Photo by Dr. Beth Williams
Soon after outbreak surveillance measures were implemented in an effort to determine distribution of the disease. A 5-mile radius was established around the location where the positive deer was harvested. The Utah DWR then culled 84 mule deer and collected and tested samples, none of which were positive. However, a second CWD positive mule deer was detected later that year near the town of Moab in southeastern Utah (WMU 13). The animal had been exhibiting clinical signs of the disease prior to dying in an agricultural field on the west side of the La Sal Mountains.
Surveillance efforts continued through the 2003 hunting seasons and samples were collected primarily from mule deer in 17 of 30 WMU's. A total 9 positive mule deer were detected during these efforts with most positives coming from WMU's where the disease was detected the previous year. However, CWD was found in a new area in central Utah (WMU 16) when a mule deer that Utah DWR employees culled in an agricultural field tested positive for the disease. A 5-10 mile radius was established around the area where the positive deer was harvested and a total of 107 deer were culled by Utah DWR employees. None of these were positive for CWD [see 2003 results — (PDF format)].
Since the inception of CWD surveillance activities in 1998 nearly 19,000 samples have been collected and tested from most of the WMU's throughout the state. Distribution of the disease occurs in three distinct geographical areas and has been detected in 4 WMU's (8, 9, 13, and 16) which include 6 counties; Daggett, Grand, Sanpete, San Juan, Uintah, and Utah. As of March 2011 a total of 51 samples collected from mule deer have tested positive for CWD. Thirty-six of the 51 positive deer samples come from the LaSal Mountains, five from the Vernal area, one near the south end of Flaming Gorge, three near Fountain Green, and six 20 miles north of Fountain Green. Prevalence rates for CWD on WMU 8/9 and WMU 16 remain below 1%, while prevalence rates on the La Sal Mountains is near 2%. During 2009's surveillance efforts, CWD was documented in an elk for the first time when an adult cow from the La Sal Mountains harvested in November tested positive [see 2010 results — (PDF format)].
Management and surveillance summary
The goal of the DWR is to maintain a management program for CWD that provides the public with factual information, provides early detection, and prevents spread of the disease. The DWR has actively participated in CWD management by working to prevent infection, eliminate infection, and perform maintenance activities in areas where CWD has been found. The DWR's objective is to sample all WMU's with adequate deer populations that will allow the collection of statistically valid sample sizes to detect the presence of CWD at a one percent prevalence level with 95 percent confidence limits. The primary source of samples will come from mule deer because of the higher reported prevalence rate, which can be greater than 15 percent, versus one percent prevalence rate in elk.
By 2006, the goal to sample all wildlife management units in the state with adequate deer populations to determine distribution of CWD in the state was met. Beginning in 2006, some units that have been tested in previous years will be resampled. Units where CWD already exists will continue to be sampled on an annual basis to monitor the prevalence and distribution of CWD. Targeted surveillance, or the removal of symptomatic animals, will continue on all WMU's throughout the state.
Sampling methods
The medial retropharyngeal lymph nodes of mule deer in all sample units, as well as elk from positive deer units, are collected. All samples are sent to the Utah State University Veterinary Diagnostic Laboratory (UVDL) in Logan, Utah, for analysis. UVDL has been approved by the National Veterinary Sciences Laboratory (NVSL) to test for chronic wasting disease. UVDL uses the IDEXX HerdChek CWD Antigen EIA (IDEXX Laboratories, Inc., Westbrook, ME) and the PRECESS 48 system, (Bio-Rad Laboratories, Inc., Life Science Group, Hercules, CA) as rapid tests. Any positives that are detected by the Bio-Rad or IDEXX systems are verified using the "gold standard" Immunohistochemistry (IHC) assay test.
Carcass regulations
The DWR has taken measures to prohibit the import of deer and elk carcasses from known infection areas. Only the following parts of wild deer and elk may be imported from designated infection areas from other states.
Meat that is cut and wrapped either commercially or privately
Quarters or other portion of meat with no part of the spinal column or head attached
Meat that is boned out
Hides with no heads attached
Skulls plates with antlers attached that have been cleaned of all meat and tissue
Antlers with no meat or tissue attached
Upper canine teeth known as buglers, whistlers or ivories
Finished taxidermy heads
It is unlawful to import dead elk, mule deer, or white-tailed deer or their parts, except for the carcass parts listed above, from the following states, provinces, game management units, equivalent wildlife management units, or counties. Additional areas may be added as necessary.
Alberta WMUs 150, 151, 152, 162, 163, 164, 200, 202, 203, 232, 234, 236, 256, and CFB Wainwright (728 and 730)
Colorado: Game Management Units 3, 4, 5, 6, 7, 8, 9, 10, 11, 12, 13, 14, 15, 16, 17, 18, 19, 20, 21, 22, 23, 24, 25, 26, 27, 28, 29, 30, 31, 32, 33, 34, 35, 36, 37, 38, 39, 41, 42, 45, 46, 49, 51, 52, 57, 58, 59, 66, 67, 69, 75, 76, 77, 84, 86, 87, 88, 89, 90, 91, 92, 93, 94, 95, 96, 97, 98, 99, 100, 101, 102, 103, 104, 105, 106, 107, 109, 110, 111, 112, 113, 114, 115, 116, 117, 120, 121, 131, 161, 171, 181, 191, 211, 214, 231, 301, 361, 371, 391, 411, 421, 441, 461, 511, 512, 521, 591, 691, 861, 951
Illinois: Counties of Boone, DeKalb, DuPage, Grundy, Jo Daviess, Kane, Kendall, LaSalle, McHenry, Ogle, Stephenson and Winnebago
Kansas: Counties of Cheyenne, Decatur, Ellis, Ford, Graham, Harper, Logan, Norton, Rawlins, Sheridan, Sherman, Smith, Stafford, Thomas, Trego and Wallace. These counties are included in Deer Management Units 1, 2, 3, 4, 5, and 17
Maryland: Allegany County
Minnesota: Olmsted County
Missouri: Macon County
Nebraska: Counties of Arthur, Banner, Box Butte, Buffalo, Cherry, Cheyenne, Custer, Dawes, Deuel, Garden, Grant, Hall, Hitchcock, Holt, Hooker, Keith, Kimball, Lincoln, Loup, Morrill, Red Willow, Scotts Bluff, Sheridan, and Sioux
New Mexico: Game management Units 19, 28 and 34
New York: Oneida County (confirmed in 2005; containment protocols lifted 2010)
North Dakota: Deer unit 3F2
Saskatchewan Wildlife Management and Herd Reduction Areas 9, 10, 11, 12, 13, 14, 24, 25, 29, 43, 45, 46, 47, 49, 50, 68s
South Dakota: Counties of Fall River, Lawrence, Custer and Pennington, Wind Cave National Park and Custer State Park
Pennsylvania: Bedford and Blair counties
Texas: El Paso and Hudspeth counties
Utah: Wildlife Management Units 9, 13 and 16
Virginia: Frederick County
West Virginia: Hampshire and Hardy counties
Wisconsin: Deer Management Zones 15 (Washburn Co), 53 (Adams Co), 54B (Juneau Co), 54B-CWD, 57A (Portage Co), 70-CWD, 70A-CWD, 70B-CWD, 70C-CWD, 70D-CWD, 70E-CWD, 70F-CWD, 70G-CWD, 71-CWD, 73B-CWD, 73E-CWD, 75A-CWD, 75B-CWD, 75C-CWD, 76-CWD, 76A-CWD, 76M-CWD, 77A-CWD, 77B-CWD, 77C-CWD. Also including any deer registered with a Wisconsin DNR red registration tag from the areas designated as the Disease Eradication Zone.
Wyoming: Deer hunt areas 2, 3, 4, 6, 8, 9, 10, 11, 12, 13, 14, 15, 16, 22, 23, 26, 27, 29, 30, 33, 34, 37, 41, 46, 47, 51, 55, 57, 59, 60, 61, 62, 63, 64, 65, 66, 70, 73, 74, 75, 76, 77, 78, 79, 80, 81, 82, 87, 88, 89, 119, 120, 122, 124, 125, 127, 163, 164, 171 (Fremont Co), 132 (Sweetwater Co)
Non-residents transporting harvested deer and elk carcasses through Utah may do so if they do not stay in Utah more than 24 hours, do not leave any part of the animal carcass in Utah, and do not have their deer or elk processed in Utah.
How can hunters help?
Immediately report all deer that appear sick or emaciated to a DWR office, biologist or officer. The DWR will attempt to locate the animal and remove a tissue sample from the head for testing.
Salt Lake Office, (801) 538-4700
Southeastern Region, (435) 613-3700
Central Region, (801) 491-5678
Northeastern Region, (435) 781-9453
Southern Region, (435) 865-6100
Northern Region, (801) 476-2740
Hunters harvesting animals from areas where testing is needed may be requested to cooperate by removing the cape from the deer or elk in the field or by taking the head to a Division office immediately after it is caped. The DWR can then remove a lymph node sample for testing.
Can hunters have their deer/elk tested for CWD?
The DWR has implemented an aggressive surveillance plan to target deer in specific units throughout the state. CWD infection in the endemic areas of Wyoming, Colorado and Nebraska are found in less than one percent of wild elk populations and one to 15 percent of wild deer populations. Therefore, testing strategies mainly target deer and not elk, although the DWR will test any deer or elk exhibiting clinical symptoms of CWD. Hunters who have harvested a deer in one of the CWD sampling units (2014 CWD sampling units map), or who harvest an elk in a CWD positive area, are requested to take their animal to the nearest regional office or wildlife check station to have a tissue sample removed for testing. To qualify for testing, the animal must be older than one year old, must not have been dead longer than three days, and the head of the animal must not have been frozen at any time. Hunters may view the results on the Internet after allowing four to six weeks for processing.
Hunters who harvest an animal in a non-target sampling unit, but still wish to have their deer or elk tested for chronic wasting disease, may do so at a cost of $25 by providing the head to the Utah Veterinary Diagnostic Lab in Logan, Utah or the Utah Veterinary Diagnostic Lab in Nephi, Utah. In this case, the DWR will remove a sample from any harvested deer or elk, but the hunter is responsible for getting the sample to the lab and for paying the $25 testing fee. Deer and elk must be older than one year of age to be eligible for testing.
Utah Veterinary Diagnostic Lab
950 E 1400 N
Logan, UT 84322
435-797-1895
Utah Veterinary Diagnostic Lab
1451 S Main St
Nephi, UT 84648
435-623-1402
| | |
| --- | --- |
| | |
| | |
| --- | --- |
| | |